Risk Assessments
New fire safety rules affecting all non-domestic premises in England and Wales came into force on 1st October 2006.
'The Regulatory Reform (Fire Safety) Order 2005' is the biggest overhaul of fire safety legislation in decades and it applies to all non-domestic premises including the common parts of blocks of flats and requires that the responsible person provides a 'suitable and sufficient' fire safety risk assessment.
The law applies if you employ five or more persons or if you have a license in force under any enactment.
This could include most business and commercial premises along with self-employed persons, charity and voluntary organisations, contractors, businesses providing accommodation for paying guests.
This legislation requires all employers and building owners to carry out a fire safety risk assessment.
This assessment must be carried out by a "Competent" person as defined by the order.
Assured Fire Safety take pride in providing trained "Competent" professionals who can reduce the risk of fire to your premises by recognising potential fire hazards and then providing the solutions to eliminate those risks entirely or reduce those risks to an acceptable level.
Our friendly fire safety consultants will visit your premises and complete a thorough and robust fire safety risk assessment in conjunction with your key staff. We will assist you in complying with all relevant legislation and its practical application to your premises.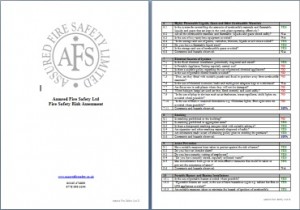 What will happen if I do not carry out a fire risk assessment?
The Regulatory Reform (Fire Safety) Order 2005 states that "Fire and Rescue Authorities will ensure that the duties of the order are met and will have powers to issue enforcement notices to those who do not take their "duties seriously"
Ultimately a breach of legislation could result in the "responsible person" receiving a fine or even a prison sentence as well as prohibition notices being issued to limit the use of parts of the premises or the premises in its entirety.